HYmarket.com is your gateway to the data, analysis, and news needed to make profitable investment decisions regarding High Yield corporate bonds.  HYmarket.com gathers the resources relevant to fixed income professionals onto one convenient site in order to save countless hours of research and analysis of the High Yield market.  Launched in March 2000, HYmarket.com has become a leading information portal for high yield professionals in the US high yield bond markets.
Subscribers to _HYmarket.com _can take the guesswork out of bond prices by using the site to look up historic and current bond prices, by using our quick bond calculator to derive yields, and by using our graphing tools to graph bond prices, yields, or yield curves. Simplify your analytic process by using the financial models to extract company earnings and cash flow analysis. Save valuable research time by reviewing the new issues calendar and accessing numerous sector news feeds.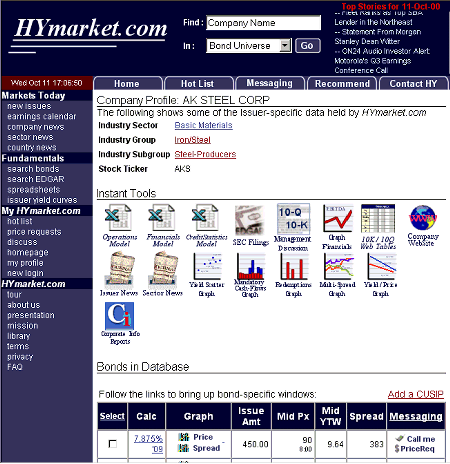 Investors have the option to create hot lists to easily monitor chosen bonds.  Sell–side firms can post Axe sheets for their clients to see. Our instant messenger feature enables the exchange of price requests. Plus _HYmarket.com _has extensive SEC / Edgar information, integrated in a database with bond pricing, to provide power swap–generation tools and simplified access to difficult–to–find statistics.
We combine a wide array of information with advanced technology; this combination allows users to find the necessary data, and to use it most effectively. Use our technology to sort, search, track, graph, compare, communicate, calculate, customize, etc.!
Log on for free as a guest to experience the wealth of information and tools. Be advised that guests have only partial access to the features on the site. For a free 14 day trial period with full access, contact us at info@HYmarket.com.
20 October 2009